Onze geliefde Replit heeft een nieuwe challange. 100 Days of Code, met Python! Via onze CodeWeek ambassadeur Ramon.
De eerste 35 dagen zijn al gepubliceerd, de vervolgdagen komen iedere week met batches online. Het is een. mooie dagelijke uitdaging. Iedere dag is er een korte Engelstalig video en een korte coding opdracht. Deze 100 dagen kunnen door informaticaleerlingen gevolgd worden. Ook is het een mooie invulling voor iedereen zonder informatica! In onderstaand overzicht zie je de eerste 35 dagen. Het leren gaat direct van start met een korte uitleg van de interface en daarna direct aan de slag. Iedere dag even werken levert wekelijk een dik uur aan oefenen op. Op het i&i forum is een topic geopend om elkaar te inspireren en motiveren.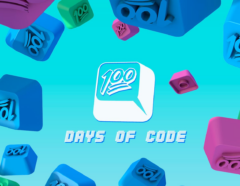 Hoe maak je een succes van 100 Days of Code?
Zorg voor een regelmaat
Zorg voor een vast moment op de dag
Werk door, ook in de weekenden
Deel de successen via social media
Deel de challenge met mentoren en schoolleiding
Daag je rector/bestuurder uit (!)
Laat leerlingen bij voorkeur in duo's werken
Deel iedere les/week een hoogtepunt en blik vooruit
Wie neemt deze challenge aan?
Overzicht met de dagen
Dag 2 – Input and Variables
Dag 3 – Concat…what?
Dag 4 – Print' in Color!
Dag 5 – If this…else that?!
Dag 6 – What the elif is this?
Dag 7 – Nesting Dolls Code
Dag 8 – Affirmation Generator
Dag 9 – Casting Spells on Your Code
Dag 10 – Show Me the $$
Dag 11 – 525,600 minutes
Dag 12 – Find All the Bugs!
Dag 13 – Gradebook Builder
Dag 14 – Rock, Paper, Scissors
Dag 15 – All About the Loop
Dag 16 – Make it Stop!
Dag 17 – Let's Cheat Continue
Dag 18 – Guess the Number
Dag 19 – Let's Be a Bit Lazy!
Dag 20 – What Can Range really do?
Dag 21 – Throwback to Math Facts
Dag 22 – Use other people's code
Dag 23 – Subroutines: The Recipe for Coding
Dag 24 – Roll in the Parameters
Dag 25 – Send it Back
Dag 26 – The Power of Libraries in Games
Dag 27 – Video Game Characters
Dag 28 – Epic Character Battle
Dag 29 – The Secrets of print
Dag 30 – f…what?
Dag 31 – Create a User Interface
Dag 32 – Make a List
Dag 33 – Getting Dynamic
Dag 34 – Pretty Printing
Dag 35 – The ULTIMATE List Make